Steve Lemke's Home Page
Quick Intra-page Index: Latest news, Cool Gadgets, Older news, Family, Music, and Geek stuff

---
Going to Maui? (Or know someone else who is?) Rent our Maui Banyan Condo in south Kihei from $100/night!

---
Latest News...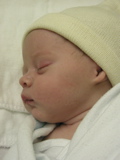 2005: In February, Audra gave birth to our second child, a wonderful son we named Jaron Bryce Lemke. We've been amazed at how much more (exponential!) time it takes having two little ones at home, and thus we haven't been updating this page much lately. It's about all we can do to find time now and then to post pictures to SmugMug.com for our friends and family to see. Let us know if you need the password to see our family pictures.

I'm still at PalmSource (formerly Palm Inc., 3Com, U.S. Robotics, and Palm Computing -- you know, the Palm Pilot people), and in fact will celebrate nine years there this August, as the longest-tenured employee still at the company.

Current Palm OS devices: Steve has finally ditched his aging Nokia "dumb" phone and now carries only a PalmOne Treo 650 (unlocked GSM on T-Mobile); Audra upgraded to a new and very cool Zire 72.
2004: Amber passed away in November at the age of 11 1/2. We miss her terribly, and Sienna is now an only dog.

Current Palm OS devices: Steve has a PalmOne Tungsten C (which has more impressive specs than the Apple PowerBook Duo he had when he started working at Palm back in 1996) and a Treo 600, and Audra just upgraded from a PalmOne Zire 71 to the new and very cool Zire 72.
2003: It's all a blur (new baby and all)...

2002: New page: Steve's referrals - pointers to people and companies that are great to do business with.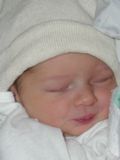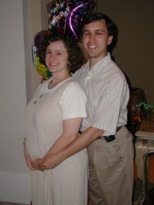 2001: On October 21, Audra gave birth to our first child, a darling little angel we named Brina Marissa Lemke! I was fortunate enough to be able to take my sabbatical from work and spend four weeks at home with Audra and Brina. We have more pictures of Brina available online, but they're not publicly linked from any of our other Lemkeville pages. If we know you and you haven't seen the pictures, contact us and we'll let you know where to find them.

Everyone says that having a baby will turn your world upside down, and they're absolutely right. However, I never could have imagined just exactly what this meant until it happened to us. Our lives will surely never be the same again, but we wouldn't have it any other way...

We found some neat baby-related Palm software:
Contraction Timer looks like a great program for timing contractions; I wish we had found it *before* the baby came.
InfantTrack is a useful program Audra uses to keep track of feedings, diaper changes, and baby naps.
SplashPhoto is a program we use to view baby pictures on our Palm devices. The best part is that it has a really simple desktop program that makes it easy to add pictures to your handheld.
I compiled a list of product suggestions and pointers for new parents-to-be. If you or someone you know is expecting a baby (especially their first), check it out and hopefully you'll find something of use there.
I upgraded from my old wireless Palm VIIx to the new Palm i705. This new, smaller, rechargeable PDA adds always-on wireless and lets me read my Outlook (work) email and surf the web just about anywhere (in the USA that is). The i705 effectively replaces not only my old VIIx, but also my Skytel two-way pager since it has incoming message notification. Very cool product. Yes, I do really wish it had a color display, but it's still (in my opinion) the coolest Palm device to date. (The latest Sony, the PEG-NR70, is pretty slick for a non-wireless Palm powered device.)
---

Cool gadgets (that my wife really loves too so they must be pretty cool):
Warning... several of the links in this section are no longer working... Gotta fix that one of these days...

For networked MP3 playback or streaming web radio from your stereo system: Audiotron by Voyetra Turtle Beach. This $295 device enables us to instantly play ANY song in o ur collection of 700+ CDs, or random play across our entire collection. It's brought our music back into our lives in a big way (rather than just sitting in our CD storage cabinets where it was invconvenient to listen to). In addition, the company hosts a mailing list for users, and is very proactive in listening to our feedback and sharing pre-release (beta) updates! Lately I've been working on a Palm application to control the AudioTron remotely over wireless 802.11...



To control our home theater system, we use the Home Theater Master MX-500 programmable remote control. At first, I tried using the Philips Pronto, but it didn't have enough buttons and was too complicated to program. The MX-500 is a really great remote. You can get it for about $90 from BlueDo.com. If you live in Silicon Valley and want to get one of these locally without having to mail order it, you can get it for about $140 from Home Tech Solutions (a really great home automation store in Cupertino near Miyake). Also, if you want to know anything about programmable remote controls, check out the best remote site on the net, RemoteCentral.com, where you'll find reviews for any remote worth buying, message boards, and file areas where people share IR codes and custom remote layouts.



To share baby pictures with grandma, I bought a Ceiva digital picture frame from Good Guys for $200. Through January, there is a $100 rebate which drops the price to $100. Grandma just plugs the picture frame into an outlet and into a phone jack, and we (my cousins and I) can upload pictures of the great-grandkids at any time. Grandma's picture frame will dial up the Ceiva service every night and download any new pictures so she can see them when she wakes up. Pretty slick, huh? The Ceiva service costs $5/month but that's a small price to pay for automatically sending pictures to Grandma without having to print them out and mail them.



To make the most incredible espresso drinks (cappuccino, latte, mocha, etc.), I got a Capresso C1000 espresso machine as an early Christmas present from Audra (though I think she likes it as much if not more than I do). At $700 (brand new on ebay), it may seem expensive for an espresso machine, but it's worth every penny. Plus, I have friends who paid $900 for the same machine. We figure that within a year or two it will pay for itself since we can now make better espresso drinks than Starbucks without having to leave the house, which is pretty handy when you have a new baby at home. It's also great for entertaining: friends who have visited us agree that it makes wonderful espresso drinks!



To print, fax, copy, or scan stuff, we have an HP LaserJet 3200m multi-function machine. It replaced a thermal fax machine and an old Apple LaserWriter 16/600. We've always wanted a plain-paper (non-inkjet) copy machine at home, and we can even make color copies by doing a scan and print to Audra's Epson Stylus Photo 700 color inkjet (painless with the HP software). The printer cranks out 9 pages per minute at 1200 dpi, but is totally quiet when it's not doing anything. The fax machine has a 33.6kbps modem, which is more than twice as fast as the typical 14.4 fax machine. I don't know why all fax machines aren't 33.6 these days (or internet-connected for that matter). The scanner does 600dpi in 24-bit color. This thing is built like a tank, and is worth every penny we paid for it (though it's not THAT expensive for what you get). Plus, it's Mac *and* Windows compatible - BONUS! Put a JetDirect 175 on it and you get a fully networked PostScript laser printer for all of the Macs or PCs on your network. I can't say enough about this wonderful machine! The 3200 (not "m") is a little cheaper if you don't need Mac (PostScript) support. Buy.com sells the LaserJet 3200 and the 3200m as well as the JetDirect.

Wish List (or "possible future gadgets", circa 2002):
---

Older news:
New page: Broadband and Wireless Broadband information

New page: How to set up Mac printing over TCP/IP - Lets you turn off AppleTalk on your PowerBook, which makes it wake up from sleep MUCH faster! (This assumes you are printing to an ethernet printer which supports LPR, like most office HP printers, and even some of Apple's own LaserWriters.)



2000: In March Palm had its IPO, and in July Palm completed its legal separation from 3Com! Palm was about 50 people when I started back in August 1996. Now we're somewhere around 1200!

Coming someday (?): Pictures from our August Hawaii trip for the Palm Inventors Conference.



New page: My TiVo upgrade page w/pictures.

New page: Pictures of our family room remodel. (final pics not yet posted)

New page: Pictures from my January trip to Montpellier, France.

New page: Pictures of Apple's AirPort wireless hub disassembly.

Millenium madness: Is 2000 the start of the millenium or is 2001? Or is the correct answer technically "neither"? Read all about it. Be sure to read the whole thing to get the full story. There's much more to it than the first screenful that appears...

1999: New page: Pictures from our August trip to Spain for the 3Com Inventors Conference.

On September 13, 1999, Palm announced that they would be separating from 3Com, spinning out into an independent, publicly traded company. Woo-hoo!! We're going public!! For more information, check out the filing announcement.

In October, Palm announced a broad licensing and joint development agreement with Nokia and in November, Palm announced a similar agreement with Sony.

1998: In February, Audra and I went to Hawaii for the first time. We spent five days on Kauaii, and five days on Maui. We had a great time! It was the first of what will hopefully be many enjoyable Hawaii vacations to come. Maybe some day I can dig up some pictures from that trip...

In June, we went to Yosemite with Audra's parents.

1997:

The most awesome wedding: Audra and I were married on June 20, 1997 at Chambers Landing (see picture at left) in Tahoma (at beautiful Lake Tahoe). Chambers Landing was an absolutely fabulous place to get married. People are still talking about what a beautiful wedding it was, and we definitely agree! Some interesting Tahoe links are TahoeNet, and Tahoe Country.

After the wedding, we had a spectacular honeymoon in Europe. We started with Germany (flew into Frankfurt and stayed in Rotenburg), spent almost a week touring Austria (Salzburg, Hallstat, Weissenkirchen on the Danube, and Vienna), another week touring Itlay (Venice, Florence, Siena, Cinque Terre, and Varenna at Lake Como), and flew home from Switzerland (after visiting Murren and Gimmelwald). We have always used Rick Steve's Europe Through the Back Door guide books for our travels, and have never regretted it. We tape his Travels in Europe shows on PBS, as they provide video memories of many of the places we've seen.



On Wednesday, March 19, 1997, after waiting almost a month for it to arrive, we picked up our new Honda CR-V (one of the first ones). If you know Audra, you'll guess (correctly) that it's green. On Friday, March 28, 1997, the factory stereo was replaced with an awesome Alpine system, and on Saturday, March 29, Dave and I installed an Alpine alarm. I have a web page that describes what we did.

1996: On Friday, November 15, 1996, a four-month-old stray puppy we've since named Sienna walked off the street and into our garage. We posted signs and reported her as a found dog to the humane society, but nobody called. Since she and Amber seem to get along pretty well, we decided to keep her. We've posted a few pictures we scanned in so folks can see what she looks like. (Note that these pictures are very old, though, taken back when she was just a puppy.)



On July 12th, 1996, I left Radius after seven years there. What could possibly convince me to leave after seven years? Well, I wasn't really looking to leave... Radius was very good to me while I was there, and some good friends of mine were still there. (Some of them later went on to create an interesting internet start-up called Snippets.) However, a chance to work at the Palm Computing division of U.S. Robotics (which was later acquired by 3Com Corporation) was just too much to pass up. Plus, some ex-Radius friends were already at Palm (though they later moved on to create Palm spin-off Handspring). Anyway, ever since I bought my first Palm Pilot 1000 organizer back in May, 1996, I've been thrilled about the idea of working for Palm. I started on August 12th, 1996, back when there were only about 50 people there. It's now well over 1000 people!!

1990-1995: After college, my first job was at Radius Inc. I worked initially as a quality assurance engineer and then as a software engineer. I worked on many interesting (and successful) Macintosh-related products such as the Radius Pivot Display (a rotating portrait-landscape display), PrecisionColor video cards (the first color video cards with on-the-fly resolution switching, called Dynamic Desktop), PowerView (the first adapter to allow external displays to connect to PowerBooks), and VideoVision PCI (a professional digital video capture and editing system). Support for some of these ancient Radius products can still be found at RadiusVintage.com. There's a web page at YahooClubs for Radius Alumni, and I also run a mailing list to help keep track of everyone.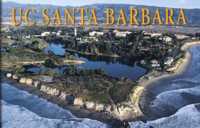 1989: In June, 1989, I graduated with a B.S. degree in Electrical and Computer Engineering from the University of California at Santa Barbara. While at UCSB, I lived at Francisco Torres (aka Club Med I.V.) my first year, on the 9-North. (I created a Yahoo club for FT-9N 85-86). I subsequently lived in three different places in Isla Vista: an apartment at 6660 Abrego, upstairs in a duplex on Sabado Tarde, and upstairs in a duplex on Camino Del Sur. [Here's another I.V. link.]

1985: In June, 1985, I graduated from Dos Pueblos High School in Goleta, CA (where I grew up, near Santa Barbara). I found a DPHS Class of '85 web page run by Darren Caesar and Susie Hobbisiefken. Be sure to follow the links from there to ClassMates.com and HighSchoolAlumni.com and register if you haven't already. Heck, you should do it even if you're NOT from DPHS. It's a cool way to get back in touch with those old high school friends! The bummer is that ClassMates.com charges you $30/year to find out the email addresses of your friends; fortunately, the others are free. Another interesting (and FREE) alumni site is Alumni.net, though it's newer. Yet another new (and free) site is GradFinder.com.

Santa Barbara is a beautiful place to live. I'd love to retire there some day, except that it seems to have become a prohibitively expensive place to live (and that coming from someone who lives in the Bay Area).

Jump back to the top of this page or keep scrolling...
---

Wife and family...

Here's a somewhat dated picture of my wife Audra, Amber, and myself. Audra is a graduate of Cornell University (with a B.S. in engineering physics), and the University of North Carolina at Chapel Hill, with a Master's Degree in Computer Science (with an emphasis in Computer Graphics). Currently she works at EnRoute Imaging on 360-degree video technology for the new Sony PlayStation 2. Prior to that she worked full-time at home for Testarossa LLC (a three-person startup) and loved it. Before that, she worked at Electronic Arts and HP Labs. Incidentally, Audra has a pretty cool web page of her own, here at Lemkeville.

Presently, I'm living in Sunnyvale, CA with Audra, our Golden Retriever, Amber, and our other dog, Sienna. Previously, we lived in elsewhere in Sunnyvale, and before that in South San Jose with an old work buddy Dave. Dave and I owned a house together for three years. Shortly after returning from grad. school, Audra, Amber, and I moved back to Sunnyvale to shorten our commutes. After Radius, Dave worked at Apple, and then went to EnRoute, which is how Audra came to work there... Of course, not long after Audra went to work at EnRoute, Dave sold his house in San Jose and moved to Phoenix.

Audra and I have known each other since May, 1991, back when Dave first chose her as a roommate for his three-bedroom apartment at Glenbrook in Cupertino, across from The Oaks Shopping Center, where we used to frequently walk to get coffee at The Coffee Society (that link includes an article from the local paper that actually mentions our history there).

My golden retriever, Amber, is a wonderful dog with her own web page. She used to really enjoy coming to work with me back at Radius where it was allowed (and encouraged). Alas, Palm doesn't feel the same way about dogs in the workplace. Still, it's not so bad, since shortly after she started having to stay at home by herself, we found Sienna (or rather, she found us). Amber and Sienna are best friends; they play with each other, and keep each other company (and exercised) whenever we're not around. Having one dog is great, but having two is even better.

Jump back to the top of this page or keep scrolling...
---

Music, concerts, shows, and such...
Audra and I really enjoy listening to music and going to concerts. In fact, our first date was at a Sting concert at Shoreline Amphitheatre which is one of my favorite concert places. Other favorite places are Villa Montalvo and the Paul Masson Mountain Winery.

Over the years, people/groups we've seen (together) in concert include Joan Baez, David Benoit, Berlin, Big Bad Voodoo Daddy, Sarah Brightman, Judy Collins & Arlo Guthrie, Phil Collins, Shawn Colvin, The Cure, Dire Straits, The Fixx, Fleetwood Mac, Fourplay, Peter Gabriel, Indigo Girls, Dave Koz, Sarah McLachlan & Sheryl Crow (at the Lilith Fair), Loreena McKennitt, Moody Blues, Alanis Morissette, James Taylor, Sting, George Winston, and Yanni. Wow, that's quite a list, and there's probably still a few we're forgetting! :-)

Separately, Audra has seen Pink Floyd (and undoubtedly others), and I have seen The B-52's, Basia, The Beach Boys, Jimmy Buffet, Chicago, The Eagles, Bruce Hornsby, Howard Jones, Elton John, David Lanz, Huey Lewis, Oingo Boingo, REO Speedwagon, The Rippingtons, Lee Ritenour, Rush, and Weird Al Yankovic. I'm sure many of these have web sites, too, but I've spent enough time on this section for now. If you're curious, go to Yahoo or Google and search for them...

Other people/groups I'd still really LIKE to see someday include Enya, Billy Joel, Mark Knopfler, Sarah McLachlan (again!), Mannheim Steamroller, and Alan Parsons. Since Sarah's taking a break from touring, I have to make due with her Mirrorball DVD and CD, which are definitely among my favorites! I was never really a fan of concert videos or DVDs, but Mirrorball changed my mind.

Shows we've seen include Beach Blanket Babylon, Fiddler on the Roof, Les Miserables, The Nutcracker, and Phantom of the Opera.

We have a growing collection of DVDs (click to see the list), most of which we've purchased from Buy.com because of their great prices (typically better than Amazon or other DVD sites we've found), their great offers like discount email "coupons", and their occasional free-shipping promotions.

Jump back to the top of this page or keep scrolling...
---

Getting (and staying) on the Information Superhighway can be quite a challenge...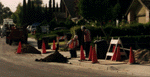 Here's a picture of my very own (first) on-ramp to the Information Superhighway. Yes, this is for real. Construction workers from Pacific Bell tore up the sidewalk (and a driveway) across the street from my house in order to install my ISDN line. All this at no charge to me, and for a line that cost a mere $25 per month which I only had for two years.

Of course, that was two houses ago. Our previous house had ISDN problems caused by squirrels eating through the ISDN wires up on the telephone poles.

With our current house, the previous owners already had ISDN (installed and working) when we bought the house. By the time we moved in, however, the line was dead. Turns out some analog repairman determined that the wires carrying my ISDN line were "unused" since there was no analog dial tone, so he re-used them to fix someone else's problem.

At one point, We had analog (POTS), ISDN and DSL, and then added @Home cable modem service through AT&T Broadband. Are we connected or what? :-)

I decided to get cable because I'm *EXTREMELY* disappointed in PacBell as a DSL Internet Service Provider. I used to be concerned that @Home wouldn't be very good either, but as PacBell sinks lower and lower, I begin to wonder how @Home could be any worse. [sigh] Turns out @Home isn't any worse (so far). It's gone down a few times, but in general it's ten times faster than DSL was, slightly more reliable, and cheaper too.

Another possibility is Sprint Wireless Broadband, which is a new wireless service that's faster than DSL and doesn't rely on your cable company OR phone company. So far, I've heard good things about it from people who have it in both Silicon Valley and Phoenix, AZ... Only problem is that it's not available where I live (see my Broadband page for more information on this, and other interesting stuff too).

Jump back to the top of this page or keep scrolling...

---
My Information Overload page is an ever-growing list of stuff I've found on the net, including some interesting mailing lists. So far, it's broken down into these categories: Pilot, ISDN, Macintosh, Audio, the Net, and Cars. [It's probably way out of date; it's probably more of a time-capsule at this point...]
---

Dilbert is a comic strip written by Scott Adams about a nerd and his dog, Dobgert. OK, so everybody knows about Dilbert (now), but back when I first created this web page it was still relatively new. Hey, now that everyone knows who Dilbert is, it's probably interesting to note that I met Scott Adams back when I was first getting into ISDN and Scott still worked at the PacBell ISDN Lab! I wonder where I put that Dilbert strip he autographed for me... Scott also wrote an article for Windows Magazine (back in 1995) titled "Men Who Use Computers Are The New Sex Symbols Of The `90s".

---
Steve's WebCounter says that as of 12/20/98 you are visitor number:
---
Jump back to the top of this page
or to the
Lemkeville Home Page
.
---
Last update: 8/5/05. First created: Sometime way back in 1995.
©1995-2005 Steve Lemke (steve@lemkeville.org)